What's Your Neighborhood Worth?
Compare recently SOLD homes in your neighborhood - FREE of charge!

The RE/MAX Neighborhood Valuation Tool allows you to compare the prices of properties that have recently sold in your area. Simply enter the property address of your choice and as much information about the property as possible. The Neighborhood Valuation tools will return, on average, the twenty nearest and most recently sold properties. Evaluate and select the comparable properties that most closely match your subject property and the RE/MAX tools will provide you with home sales trends, school information, neighborhood data, and much more!

If you're considering listing your home for sale, but feeling down about the the recent negative media attention regarding "the real estate bubble", you should know that these statistics are mostly based on the national real estate market. It's critical to understand that "All Real Estate is Local" and you don't really know what the true value of your Denver area home is until you request a free home market analysis.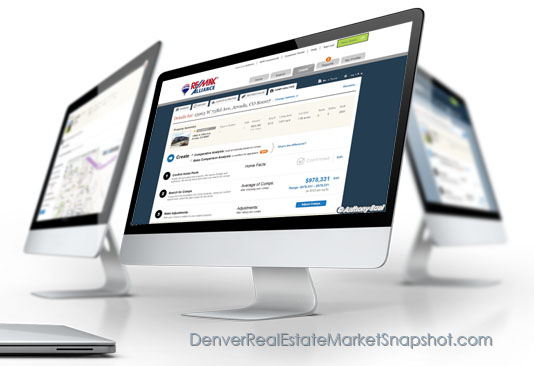 You can also request a custom "Real Estate Market Snapshot/Report" from DenverRealEstateMarketSnapshot.com
Property Report - a comprehensive look at an individual property
Mini Property Report - a more concise version of the Property Report
Seller's Report - a detailed home market analysis similar to the ones used in listing presentations
Market Activity Report - a snapshot of all the changes in a local real estate market
Neighborhood Report - data about the housing, schools, economics & quality of life in a neighborhood

I would be happy to send you any of the above reports. If you would like to sit down for coffee and discuss the Denver Real Estate market, just call me anytime at 303-520-3179. Anthony Rael, RE/MAX Alliance offers professional & trustworthy real estate services to buyers & sellers throughout the Denver metro area including Arvada, Brighton, Broomfield, Denver, Golden, Highland/Sloan's Lake, Highlands Ranch, Littleton, Louisville, Longmont, Thornton, Westminster, Wheat Ridge, Adams County, Denver County, Douglas County & Jefferson County.

HOME | SEARCH HOMES & CONDOS FOR SALE | BUYING YOUR DREAM HOME | SELLING A HOUSE | GET PRE-APPROVED FOR A HOME LOAN | HOW MUCH CAN YOU AFFORD? | SITEMAP

© 2014-2022 ▪ .REALTOR WEBSITE FOR ANTHONYRAEL.REALTOR | ALL RIGHTS RESERVED
Anthony Rael | REMAX Alliance - Arvada | 6465 Greenwood Plaza Blvd, #280 | Greenwood Village, CO 80111 | 303.520.3179